// Pharma & CPG
End of line automation
In today's global marketplace, end-of-line automation can ensure the production of finished products for delivery to the distribution channel efficiently and cost-effectively. 
Manufacturers are constantly looking for more progressive ways to make their end-of-line production more productive and time-saving.
That's where automation comes in and makes the end-of-line process easier.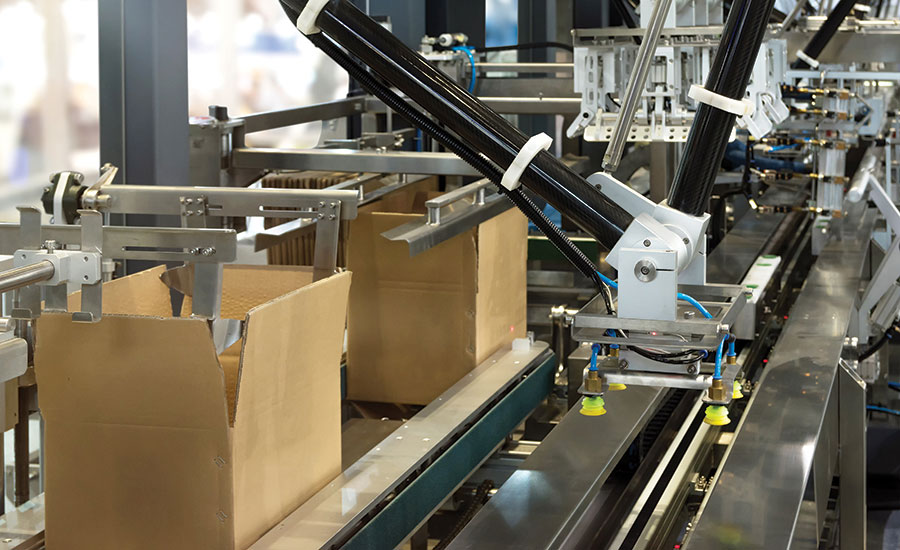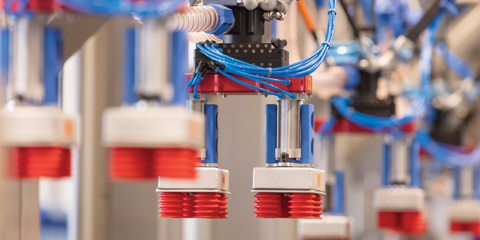 End-of-Line automation refers to automated technology that operates at the end of a production line to guarantee that the product is packed and prepared to deliver to the retailers, wholesalers, or market outlets. 
Many businesses find it challenging to justify their end-of-line packaging automation at first. Still, after looking at how it will influence your production process, it becomes apparent that end-of-line automation is the ideal answer for any expanding company.
// Fully Automatic Standalone Machine
Case Packing
Features
Technical
Packing
High speed up to 500 c/m: Machine speed is compatible with high speed cartoner machines that reaches 500 c/m with maintaining good quality printing and stable continuous production flow
User friendly SW: SW is designed to ease the operation, secure and simplify the process
Robust mechanical system: Mechanical system is designed and tested to withstand continuous high load operation, with simple and economic maintenance
Data integrity: The machine has a local Database storing all serials status and events, Following CFR 21 Part 11 regulations
Machine length: 2000 mm
Machine width: 1250 mm
Machine height: 1760 mm
Machine frame: Aluminum - profile, Stainless steel
Cladding pannels/doors: Transparent / non-transparent: Polycarbonite
Weight: Approx. 900 KG
Noise level: 66 dB
Control cabinet: Integrated in machine
Working procedure: Servo / Pneumatic
Air pressure: 5-6 bar
Sealing method: Tape
Supply voltage: 220VAC
Output: Max. 6 cases / min
Case length (L) min / max: 170-600 mm
Case width (B) min / max: 200-600 mm
Case height (H) min / max: 80-350 mm
Carton length (L) min / max: 40-250 mm
Carton width (B) min / max: 20-150 mm
Carton height (H) min / max: 30-65 mm
Infeed (Customer Requirement): Running direction right
Outfeed (Customer Requirement): Outfeed
// Semi-Automatic Standalone Machine
Case Packing
Features
Technical
Packing
Small foot print - To fit in Production area and space saving
Simple design - For easy maintenance and decrease down time
Array Aggregation - To decrease reject rate
Auto Reject system - For continues operation with no rework
Manual case feeding - Work with wide range of case materials and quality
Modular - A lot of Add on features are available for integration
User friendly software - Designed to be simple and clear for efficient operation
GMP, GAMP 5 and 21 CFR Part 11 compliant - For Quality standards
Unified HMI - one wide touch screen for optimal operation and compact design (case aggregation and machine control)
Flexible configuration - Flexible and easy to match with present line configuration
Machine length: 1680 mm
Machine width: 1100 mm
Machine height: 1760 mm
Machine frame: Aluminum - profile, Stainless steel
Cladding pannels/doors: Transparent / non-transparent: Polycarbonite
Weight: Approx. 700 KG
Control cabinet: Integrated in machine
Working procedure: Servo / Pneumatic
Supply voltage: 220VAC
Output: Max. 6 cases / min
A Product dimension min. - max: 70 - 210
B Product dimension min. - max: 30 - 120
C Product dimension min. - max: 30 - 65
D Product dimension min. - max: 200 - 600
E Product dimension min. - max: 200 - 600
F Product dimension min. - max: 80 - 350
// Automatic Standalone Machine
Bundling
Features
Technical
Packing
Small foot print - To fit in Production area and space saving
Simple design - For easy maintenance and decrease down time
Array Aggregation - To decrease reject rate
Auto Reject system - For continues operation with no rework
Modular - A lot of Add on features are available for integration
User friendly software - Designed to be simple and clear for efficient operation
GMP, GAMP 5 and 21 CFR Part 11 compliant - For Quality standards
Unified HMI - one wide touch screen for optimal operation and compact design (bundle aggregation and machine control)
Flexible configuration - Flexible and easy to match with present line configuration
Machine length: 1300 mm
Machine width: 1000 mm
Machine height: 2000 mm
Machine frame: Aluminum - profile, Stainless steel
Cladding pannels/doors: Transparent / non-transparent: Polycarbonite
Weight: Approx. 700 KG
Noise level: 66 dB
Control cabinet: Integrated in machine
Working procedure: Servo / Pneumatic
Air pressure: 5-6 bar
Sealing method: Tape
Supply voltage: 220VAC
Speed: 50 Bundle / min
Capacity: Max. 400 / min
Carton length (L) min / max: 60-200 mm
Carton width (W) min / max: 20-350 mm
Carton height (H) min / max: 12-100 mm
Bundle length (L) min / max: 60-200 mm
Bundle width (W) min / max: 60-350 mm
Bundle height (H) min / max: 30-200 mm
Infeed (Customer Requirement): Running direction right
Outfeed (Customer Requirement): Outfeed
// Standalone Machine
Palletizer
Features
Technical
Packing
Small foot print: To fit in Production area and space saving
Simple design: For easy maintenance and decrease down time
Integrated check weigher: the palletizer is featured with optional case check weigher and auto reject system
Integrated Pallet Aggregation: the machine is featured with optional pallet aggregation system for compact and reliable operation
Wide machine doors: for easy maintenance and cleaning
Flexible pallet types: works with 80 x 120 cm and 100 x 120 cm pallets
Machine length: 2700 mm
Machine width: 2700 mm
Machine height: 2830 mm
Machine frame: Aluminum - profile, Stainless steel
Cladding pannels/doors: Transparent / non-transparent: Polycarbonite
Weight: Approx. 1100 KG
Control cabinet: Integrated in machine
Working procedure: Servo / Pneumatic
Supply voltage: 220VAC
Air pressure: 6 bar
Speed: 9 Max. strokes/1'
Carton length (L) min / max: 120-600 mm
Carton width (B) min / max: 120-600 mm
Carton height (H) min / max: 120-500 mm
Pallet length (L): 120 mm
Pallet width (B): 120 mm
Infeed (Customer Requirement): Running direction right
Outfeed (Customer Requirement): Outfeed
 80 - 350